Ownership.

This article belongs to SonnyGalaxy42. Don't edit it unless approved by the owner. If you do so without the approval of the owner, you may receive a warning or you will be blocked from this Wiki.
Four more....

This article is still working in process.
Sachiko Kashiwazaki


柏崎幸子 Kashiwazaki Sachiko

Character information
Status:
Alive
Species:
Human
Gender:
Female
Age:
10
Birthdate:
December 25
Nationality:
Japanese
Habitat:
22nd Century, Tokyo Metropolis
Nickname:
Sachiko-Chan/San/Kun
Traits
Talent(s):
Robotics, Dancing.
Personality:
Friendly, Shy, kind, Enegetic, smart.
Interests:
Sewashi(love interest), studying, Cheerleading reading fantasy books, science, astronomy, mystery, traver time with Sewashi and her friends.
Hate:
Being abandoned when Sewashi not want to take her with him in the past, the grandmother's cakes
Fear:
To stay alone
Favorite food:
Marshmallow, Takoyaki, Strawberry milk, Chocolate Cake, cupcake.
Favorite color:
Violet
Idol:
Noramyako
Dream:
To be a dancer
Physical characteristics
Height:
141 cm
Hair color:
Hazel
Skin color:
Fair
Eye color:
Brown
Relationships
Parents:
Mr Kashiwazaki( dad) Mrs. Kashiwazaki (mom)
Other relatives:
Suneo great-great-grandson (cousin)
Friends:
Paruka, Sewashi Nobi,Dorami, Sewashi Cousin, Gian descendant, Dekisugi descendant, Pawaemon, Noramyako etc.
Background infomation
"
Mom, Dad, I miss you so much...
"

|— Sachiko
Sachiko Kashiwazaki(柏崎幸子) is a Doraemon fanon character.
This character belongs to Doraemon fan-Story by SonnyGalaxy42
Summary
Sachiko Kashiwazaki lives in 22nd century Tokyo Metropolitan, she attends elementary school and she's portrayed as Sewashi Nobi love interest.
Sachiko is very rich (she's cousin of Suneo Great-Great-Grandson) she was born in Kyoto and then moved to Nerima (Tokyo) when she's five years old.  She knows Sewashi when she is in kindergarten and in Elementary school are in a class together.  So much so that Sachiko demonstrates her affection, hugging him whenever. Sachiko loves to get in trouble, and often Sewashi saving her (like that time she had followed Pawaemon, Noramyako and Paruka on a very dangerous mission for children)
Appearance
Sachiko wears a lilac dress with white collar, white boots with pink clothespins.
Personality
Sachiko is very friendly and loves to make friends. even though it sometimes shows many shyness. (especially when she's in the presence of Sewashi)
Relationship
Sewashi Nobi
"
Promise me that you will never leave me alone... Sewashi-San!
"

|— Sachiko and Sewashi on the day they become best friends.
Sachiko and Sewashi are good friends. Among them there very special feeling. During of 3° grade  of primary school, Sewashi turns out that the child is suffering from a lack of parents. Why more engaged with their work. He cares so much from them a promise to take care of her, then marry her when they become adults. Sachiko accept, but with the passage of time begins to fall in love for him. The two are now very close, and it seems that he feels more than just friendship.
Her personal Cat Robot. Sachiko has a very close bond with her.
Sewashi Cousin
Sachiko and Sewashi cousine are good friends.
Dorami
Sachiko and Dorami are good friends.
Pawaemon
Sachiko and Pawaemon are good friends.
Noramyako
Sachiko admire her because she's a great dancer.
Suneo, Dekisugi and Gian descendants.
they are his classmates, and they also want them.
Trivia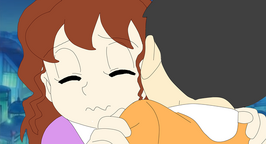 Her name in Japanese means "Happy little girl"
Her "dere" personality is Deredere
Sachiko is Suneo descendant, but also of Natsumi Kobayashi their children are married and are his great-grandparents
Sewashi and Sachiko are friends since Kindergarten and now attend elementary school together. She helps him with his homework, and he helps Sachiko to be more responsible. Sachiko and Sewashi friendship is very united(Their relationship is like that of Netto Hikari and Meiru Sakurai in Rockman NT warrior)  
Often, to get to Sewashi's home first, Sachiko uses the Paruka's Dokodemo-door to get him right away.  
Paruka is a special cat robot of Sachiko.
She has built robotic clothespins (which she has in the head using them to keep her hair firm)
Community content is available under
CC-BY-SA
unless otherwise noted.