Ownership.

This article belongs to SonnyPalù. Don't edit it unless approved by the owner. If you do so without the approval of the owner, you may receive a warning or you will be blocked from this Wiki.
Four more....

This article is still working in process.
Natsumi Kobayashi(小林夏美)is a Doraemon Fanon Character.
This character belongs to Doraemon fan-Story by SonnyPalù.
Natsumi Kobayashi


小林夏美 Kobayashi Natsumi

Character information
Status:
Alive
Species:
Human
Gender:
Female
Age:
10
Birthdate:
April 20
Nationality:
Japanese
Habitat:
Tokyo, Japan
Career:
CEO (in a future)
Team:
The Giants Cheerleading Team
Nickname:
Na-Chan, Natsumi-Chan/Kun/San, Kobayashi-Sama, Idate-Sama/San (in future)
Traits
Talent(s):
Studying.
Special:
She can do Shopping very fast
Personality:
Pridefull, Wise, Sadistic, Kind, Snob( Somtimes)
Interests:
Shopping, travels, Studying, to stay with friends, dancing.
Hate:
Lazy people(like Nobita) Gian's songs(look for ways to escape from him)
Fear:
Bugs
Favorite food:
Sushi, Curry Rice, Tonkatsu, Italian dishes.
Favorite color:
Red
Dream:
To became a Doctor or Lawer.
Physical characteristics
Height:
142 cm (4ft 7,9in)
Hair color:
Amaranth
Skin color:
Fair
Eye color:
Brown
Relationships
Parents:
Mr Kobayashi(dad) Mrs Kobayashi (Mom)
Spouse:
Terao Idate
Children:
Himeko Idate
Friends:
Doraemon, Nobita Nobi, Shizuka Minamoto, Suneo Honekawa, Takeshi Gouda etc.
Background infomation
Summary
Natsumi is the new classmate, recently transferred. Become a friend to Nobita and the rest of the group. She's very direct and always mishandling (obviously so playful) Suneo, which falls shortly after. She founded together with Shizuka, Mei Hanakomachi and her friends, a cheerleading team to support the baseball team The Giants (where Nobita and their friends play). As adults, they spend all their days (since they are engaged) to bickering for each swollen, even because it is their way of loving themselves. habit remained from elementary times. Later they realize that this relationship will never have a future and decide to stay friends and colleagues (as she becomes CEO of a company that is in business with that of Suneo) At work Natsumi knows Terao, of whom fall in love and soon marry and have a beautiful little girl, Himeko (who is equal to her mother)
Appearance
Natsumi has amaranth-colored hair, brown eyes and a purple dress with a red bow. The girl always loves to dress elegant or fashionable.
Personality
Natsumi is a very Clever,  stylish, and girl. Sometimes she shows a slight sadism(Especially when you have to tease someone) Despite being very nasty, he has a very friendly side with her friends.
Relationship
Suneo Honekawa
She and Suneo are best friends. She was the first person who is very similar to her: Both are rich, both love to buy signed toys or robes etc.
Shizuka Minamoto
Natsumi goes very well with her. They often study together or go shopping.
Doraemon
The first time Natsumi sees Doraemon, she is swapping it for a Blue Raccon.
Nobita Nobi
At first she hated Nobita, given the character too whimsy to her.
Takeshi Gouda
Natsumi goes very well with her. They often study together or go shopping.
Natsumi knows Mei a school. They are seen occasionally, and sometimes they play togheter with Shizuka and their other friends.
Natsumi in the future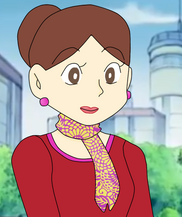 In the future, Natsumi will always dress with red or purple dresses. She will always bring the tied hair and various jewels.
Trivia
Everyone thought that she and Suneo married, but instead they chose to remain friends after High School.
Her "dere" personality is Tsundere and a bit Himedere.
She formed a group with Mei, Shizuka and another classmate.
Sometimes she bullies Nobita, along with Suneo.
 She and Suneo are the only ones with parents rich in respect to the rest of the group, but  at Natsumi's house  have a butler and a nanny.
Initially she hated all classmates (except Suneo)
Community content is available under
CC-BY-SA
unless otherwise noted.