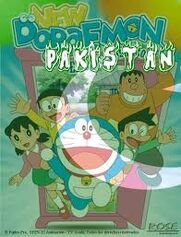 Doraemon in Pakistan refers to the Hindi adaptation of the Doraemon series in India.
Manga
Although the anime hasn't been successful in Pakistan, the manga is yet to be released there.
Anime
Before August 2016, Disney Channel India was broadcast in Pakistan. In August 2016, the government of Pakistan banned the channel because the children were being too exposed to Hindi instead of their mother tongue Urdu. This was smiliar what happens to Bangladesh.
Ban
Due to 'bad influence on children', the Pakistani political party PTI (Pakistan Tehreek-e-Insaaf) called for a ban on Doraemon in Pakistan. It also intends to ban 24 hour cartoon channels in general, because of their supposed ruining of children's minds. Legal notice also been served against several companies in India against Doraemon and Crayon Shin-chan as having an adverse effect on children. Even thought Urdu is the one of the languages in Malaysia (along with Islamic Arabic language) and Singapore, but has a resemblance to the Arabic language. (August 3, 2016)
Hindi Voice Cast
Community content is available under
CC-BY-SA
unless otherwise noted.