Doradanki is a fan character.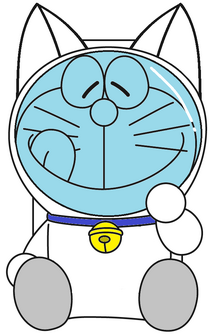 Biography
Doradanki is a robot cat who likes astronauts, the color is not known for covering all wearing astronauts, including glass. He wears an astronaut, and shoes, a part behind is oxygen. He delights in the month and see the earth while eating cake dorayaki. He was afraid of insects is a worm. He likes to jump on the moon. He will study is solar system, and planet. He friends is, Doraemon and Wang Dora, Shizuka and Dekisugi.
Trivia
He is the 3rd character by Emilioalzamora20
His favorite songs is:

Close Your Eyes by Daybehavior
Beyond Here and Now (Intensified) by Neuropa
Desert Journey by dj TAKA
Disabled the FLAW by D-Crew
I DON'T WANT TO MISS A THING (Planet Lution Mix) by DEJA VU featuring TASMIN.
Community content is available under
CC-BY-SA
unless otherwise noted.