Doracrab is fan character.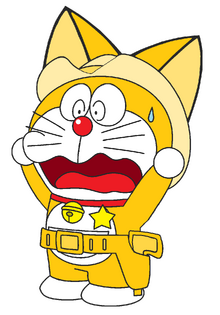 Bio
Doracrab is a robotic cat orange shy, timid and cry baby. Doracrop wearing cowboy hats and belts, also star. He has a lot of phobias, ie, fear of heights, blood, dirty, small holes are many, and others. He very scary is a crab, and a balloon (if explode). He is brother Dora the Kid. He really good shooting.
Trivia
He is fifth character by Emilioalzamora20
His favorite songs:

TOE JAM by Big Idea
Guilt Is a Useless Emotion (Mac Quayle Mix) by New Order
GYOUNG GO by TASHANNIE
Hey, Soul Sister by Train
Kimi wo Mamotte Kimi wo Aishi te by DDR MUSIC FIT
LET ME THINK ABOUT IT by IDA CORR vs. FEDDE LE GRAND
Listen To Your Heart (Furious F. EZ Radio Edit) by D.H.T. feat. Edmee
LOVING YOU (Epidemik remix) by TONI LEO
Community content is available under
CC-BY-SA
unless otherwise noted.